Shinagawa, Tokyo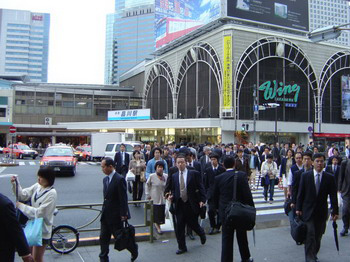 Shinagawa (品川区 Shinagawa-ku) is one of the 23 special wards of Tokyo, Japan. In English, it calls itself Shinagawa City. The ward is home to nine embassies. Shinagawa has sister-city relations with Portland, Maine in the United States; Geneva, Canton of Geneva, in Switzerland; Auckland City in New Zealand; Harbin, Heilongjiang, People's Republic of China, and Hayakawa, Yamanashi.
As of 2005, the ward has an estimated population of 334,464 and a density of 14720 persons per km². The total area is 22.72 km².
Shinagawa History
Most of Tokyo east of the Imperial Palace is reclaimed land. A large portion of reclamation happened during the Edo period. The ward was founded on March 15, 1947, through the administrative amalgamation of the former Ebara Ward with the former Shinagawa Ward. Both Ebara Ward and Shinagawa Ward had been created in 1932, with the outward expansion of the municipal boundaries of the Tokyo City following the 1923 Great Kantō Earthquake.
In the Edo period, Shinagawa was the first post town a traveler would reach after setting out from Nihombashi on the Tokaido highway from Edo to Kyoto. The post-town function is retained today with several large hotels near the train station offering 6, 000 hotel rooms, the largest concentration in the city. Shinagawa is also home to Sony Corporation's headquarters. The Tokaido Shinkansen is scheduled to stop at Shinagawa Station from 2003, and the nearby Shinagawa Intercity office complex will be served by a new subway station in a few years' time.
Places
The Institute for Research in Human Happiness

National Institute of Japanese Literature

Shinagawa Shrine

Suzugamori Execution Grounds (Edo period)

TV Tokyo Tennozu Studios
Shinagawa Transportation
Important train stations
Shinagawa Station in neighboring Minato also serves Shinagawa, and is a stop on the high-speed Tōkaidō Shinkansen line.
Gotanda Station

Meguro Station

Osaki Station

Oi-Machi Station
Rail
JR East


Yamanote Line: Osaki, Gotanda, Meguro Stations

Keihin-Tohoku Line: Oi-Machi Station

Saikyo Line: Osaki Station

Tōkaidō Main Line: does not stop in Shinagawa

Yokosuka Line: Nishi Oi Station

Shonan Shinjuku Line: Osaki, Nishi Oi Stations


Tokyo Kyuko Electric Railway (Tokyū)


Tokyu Meguro Line: Meguro, Fudo-mae, Musashi Koyama, Nishi Koyama Stations

Tokyu Oimachi Line: Shimo Shinmei, Togoshi Koen, Nakanobe, Ebaramachi, Hatanodai Stations

Tokyu Ikegami Line: Gotanda, Osaki Hirokoji, Togoshi Ginza, Ebara Nakanobu, Hatanodai Stations


Tokyo Waterfront Railway: Tennozu Isle, Shinagawa Seaside, Oimachi, Osaki Stations

Tokyo Monorail: Tennozu Isle, Oi Keibajo-mae Stations

Keihin Electric Express Railway (Keihin Kyuko or Keikyu)


Main Line: Kita Shinagawa, Shin-Baba, Aomono Yokocho, Samezu, Tachiaikawa, Omori Kaigan Stations


Tokyo Metro


Nanboku Line: Meguro Station


Tokyo Metropolitan Bureau of Transportation


Mita Line: Meguro Station

Asakusa Line: Gotanda, Togoshi, Nakanobu Stations
Road
Shuto Expressway


No. 1 Haneda Route (Edobashi JCT - Iriya)

No.2 Meguro Route (Ichinohashi JCT - Togoshi)

Bayshore Route (Kawasaki-Ukishima JCT - Koya)


National highways of Japan


Route 1

Route 15

Route 357
Shinagawa is also home to the main motor vehicle registration facility for central Tokyo (located east of Samezu Station). As a result, manylicense plates in Tokyo are labeled with the name "Shinagawa."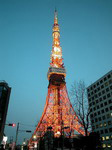 TOKYO TOWER
Tokyo Tower is a tower in Shiba Park, Minato-ku, Tokyo, Japan. It is 333 m (1093 ft) tall, making it one of the world's highest self-supporting steel towers and the tallest man-made structure in Japan.
Tokyo Tower Information


UENO ZOO
The Ueno Zoo is a zoo, owned by the government of Tokyo, and located in Taito Ward, Tokyo, Japan.
Ueno Zoo Information