Marunouchi, Tokyo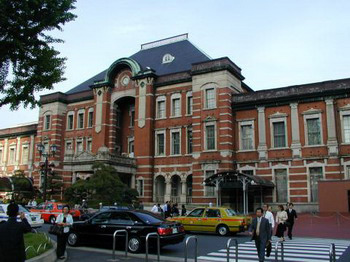 Marunouchi (丸の内) is a commercial district of Tokyo located in Chiyoda between Tokyo Station and the Imperial Palace. The name, meaning "inside the circle", derives from its location within the palace's outer moat. It is a center of Japan's financial industry, as the country's three largest banks are headquartered there.
Marunouchi History
In 1590, before Tokugawa Ieyasu entered Edo Castle, the area now known as Marunouchi was an inlet of Edo Bay and had the name Hibiya. With the expansion of the castle, this inlet was filled, beginning in 1592. A new outer moat was constructed, and the earlier moat became the inner moat. The area took the name Okuruwauchi (within the enclosure"). Daimyo, particularly shinpan and fudai, constructed their mansions here, and with 24 such estates, the area also became known as daimyō kōji ("daimyo alley"). The offices of the North and South Magistrates, and that of the Finance Magistrate, were also here.
Following the Meiji Restoration, Marunouchi came under control of the national government, which erected barracks and parade grounds for the army. Those moved in 1890, and Iwasaki Yanosuke, brother of the founder (and later the second leader) of Mitsubishi, purchased the land for 1.5 million yen. As the company developed the land, it came to be known as Mitsubishi-ga-hara (the "Mitsubishi Fields"). Much of the land remains under the control of Mitsubishi Estate, and the headquarters of many companies in the Mitsubishi Group are in Marunouchi.
The government of Tokyo constructed its headquarters on the site of the former Kochi han in 1894. They moved it to the present Tokyo Metropolitan Government Building in Shinjuku in 1991, and the new Tokyo International Forum now stands on the site. Tokyo Station opened in 1914, and the Marunouchi Building in 1923.
Places in Marunouchi
Marunouchi Building, said to sit atop the most expensive real estate in Japan, with a land value of ¥21 million/m2.

Tokyo Central Post Office

Tokyo International Forum

Tokyo Station, the city's main intercity rail terminal
Rail and Subway Stations
Nijubashimae Station (Chiyoda Line)

Otemachi Station (Chiyoda Line, Hanzomon Line, Marunouchi Line, Toei Mita Line, Tozai Line)

Tokyo Station (Chūō Line, Keihin-Tohoku Line, Keiyo Line, Marunouchi Line, Shinkansen, Sōbu Line, Yamanote Line, Yokosuka Line)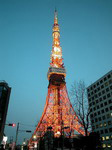 TOKYO TOWER
Tokyo Tower is a tower in Shiba Park, Minato-ku, Tokyo, Japan. It is 333 m (1093 ft) tall, making it one of the world's highest self-supporting steel towers and the tallest man-made structure in Japan.
Tokyo Tower Information


UENO ZOO
The Ueno Zoo is a zoo, owned by the government of Tokyo, and located in Taito Ward, Tokyo, Japan.
Ueno Zoo Information